Bratislava is the capital city of Slovakia, located in the southwestern part of the country, bordering Austria and Hungary. It has a population of around 450,000 people and covers an area of 367.6 square kilometers. The city is situated on both banks of the Danube River and has a rich history dating back to Roman times. Bratislava is a charming city with a mix of historical and modern architecture, beautiful parks, and vibrant nightlife. In this article we`ve tried to gather Bratislava Travel Tips that will definetly help you during your vacation at Slovak capital.
Bratislava is worth visiting for several reasons. First and foremost, the city has a rich history and culture that can be experienced through its many historical landmarks and museums. The city is also known for its delicious traditional Slovakian cuisine, which is a must-try for foodies. Additionally, Bratislava has a vibrant nightlife scene with many bars, clubs, and music venues to choose from.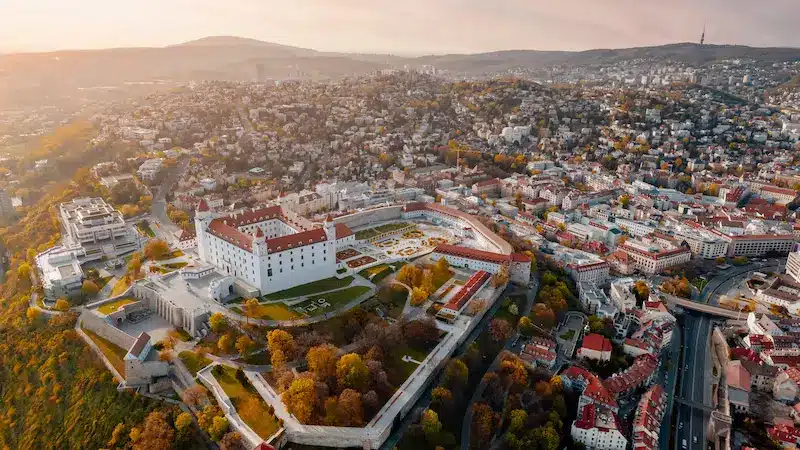 Best Time to Visit Bratislava
Bratislava can be visited year-round, but the best time to go depends on what you want to see and do. The city has a continental climate with hot summers and cold winters. The average temperature in the summer months of June to August is around 25°C, while in the winter months of December to February, the average temperature is around 0°C.
One of the best times to visit Bratislava is during the spring months of March to May when the weather is mild and pleasant, and the city is covered in beautiful blossoms. This is also when the city celebrates Easter, and many Easter markets can be found throughout the city, selling traditional Slovakian foods and crafts.
Summer is also a popular time to visit Bratislava, with many outdoor events and festivals taking place, including the Coronation Festivities, which celebrates the city's history as the coronation site for Hungarian kings. However, summers can be hot and crowded, with many tourists visiting the city.
Autumn, from September to November, is also a great time to visit Bratislava, as the temperatures are mild, and the city is covered in beautiful fall foliage. This is also when the city celebrates the Bratislava Jazz Days, one of the biggest jazz festivals in Europe.
Winter, from December to February, can be quite cold in Bratislava, but it's also the time when the city celebrates Christmas with its many Christmas markets, offering traditional Slovakian foods, drinks, and handicrafts. The city also hosts a New Year's Eve celebration with a fireworks show over the Danube River.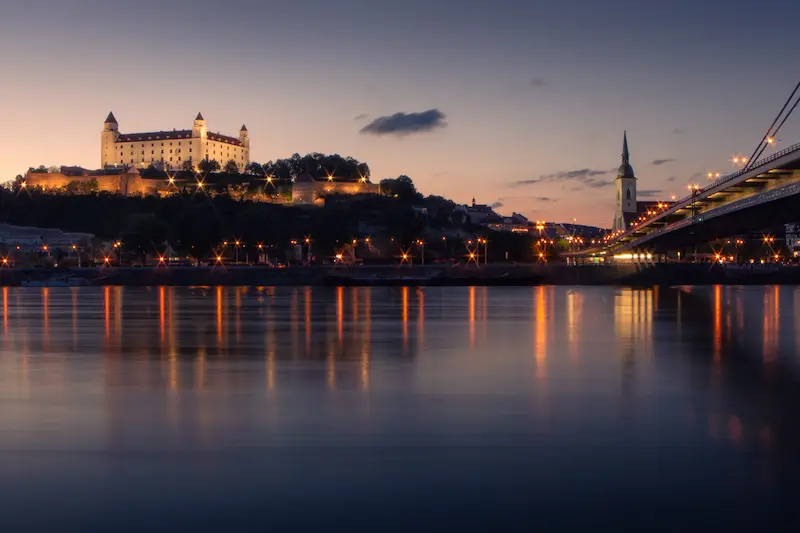 When to Avoid Traveling to Bratislava
While Bratislava can be visited year-round, there are some months that are best avoided. July and August can be hot and crowded, with many tourists visiting the city during this time. Additionally, many locals go on vacation during August, which means that some businesses may be closed.
December and January can be quite cold and snowy, which can make it difficult to get around the city. Some attractions may also have reduced hours during the holiday season.
Finally, it's worth noting that Bratislava can get quite busy during public holidays and festivals, such as Easter, Christmas, and the Coronation Festivities. It's a good idea to check the dates of these events and plan your trip accordingly to avoid crowds and high prices.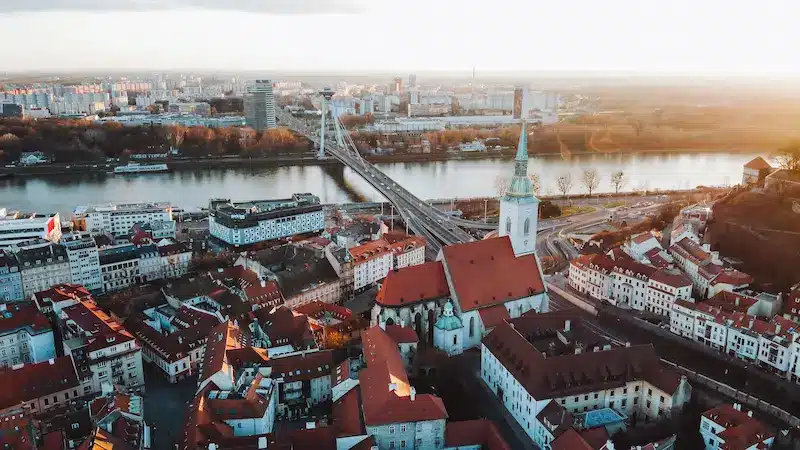 Bratislava Travel Tips for First-Time Visitors
If you're planning to visit Bratislava for the first time, here are some tips to help make your trip smoother and more enjoyable.
Currency and Money Exchange
The official currency in Slovakia is the Euro. It's a good idea to exchange some money before you arrive or withdraw cash from an ATM upon arrival. Most businesses in the city accept credit and debit cards, but it's always handy to have some cash on hand, especially if you're planning to visit smaller shops or markets.
Transportation within the City
Bratislava is a compact city, and most of the main attractions can be reached on foot. However, if you're planning to visit places outside of the city center, such as Devin Castle, it's best to take public transportation. The city has an efficient public transportation system that includes buses, trams, and trolleybuses. Tickets can be purchased at kiosks or on board, but it's cheaper to buy a ticket in advance.
Safety Tips and Local Customs
Bratislava is generally a safe city, but it's always a good idea to take precautions when traveling. Keep your valuables close to you and be aware of your surroundings, especially in crowded areas. Avoid carrying large amounts of cash or wearing expensive jewelry.
When it comes to local customs, Slovakians are generally friendly and hospitable. It's customary to greet people with a handshake, and it's polite to say "dobrý deň" (good day) when entering a shop or restaurant. Tipping is also customary in Slovakia, and it's common to leave around 10% of the bill as a tip.
Bratislava is a charming and welcoming city that's easy to navigate, even for first-time visitors. By following these simple tips, you can make the most of your trip and experience all that the city has to offer.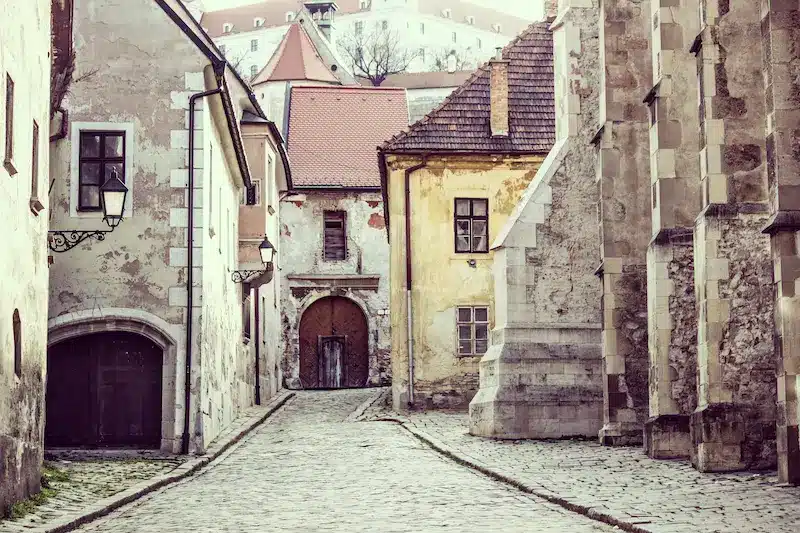 Top Tourist Attractions in Bratislava
Bratislava is a city with a rich history and cultural heritage, and there are many fascinating sights to explore. Here are some of the top tourist attractions in Bratislava.
Bratislava Castle
One of the most iconic landmarks in the city, Bratislava Castle is a must-see attraction for visitors. Originally built in the 9th century, the castle has been restored and renovated over the centuries and now serves as a museum with exhibitions on the history of the city and the castle itself. The castle offers stunning views of the city and the Danube River.
St. Martin's Cathedral
Located in the heart of the city's Old Town, St. Martin's Cathedral is a beautiful Gothic cathedral that dates back to the 14th century. The cathedral has been the site of many important events in the city's history, including the coronation of Hungarian kings. Visitors can take a guided tour of the cathedral, which includes access to the crypt and the bell tower.
Old Town Hall
The Old Town Hall is another important landmark in Bratislava, with a history dating back to the 14th century. The building houses a museum that showcases the city's history and culture, including exhibits on the city's medieval and Renaissance periods. Visitors can also climb the tower for panoramic views of the city.
Devin Castle
Located just outside of the city, Devin Castle is a fortress that dates back to the 9th century. The castle offers stunning views of the Danube River and the surrounding countryside, and visitors can explore the castle's ruins and learn about its fascinating history.
Slovak National Gallery
Art lovers should not miss the Slovak National Gallery, which is home to a vast collection of Slovakian art from the medieval period to the present day. The gallery's collection includes paintings, sculptures, and installations, and there are often temporary exhibitions on display as well.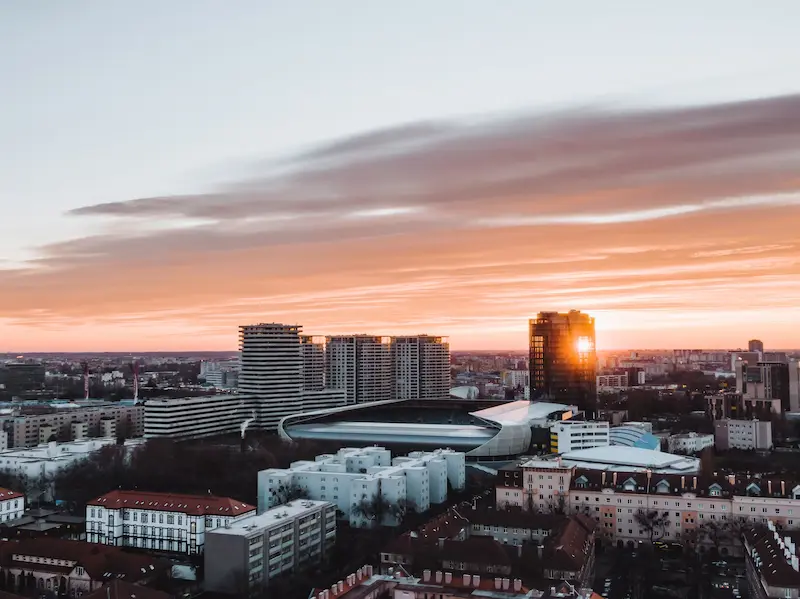 Best Restaurants in Bratislava
When it comes to food, Bratislava has something for everyone. From traditional Slovakian cuisine to international options, here are some of the best places to eat in Bratislava.
Traditional Slovakian Cuisine
For those looking to sample traditional Slovakian dishes, there are many restaurants in the city that serve up hearty comfort food. Some top picks include Slovak Pub, which offers a range of meat dishes and homemade beer, and Prašná Bašta, which is known for its classic Slovakian stews and soups.
International Cuisine Options
If you're in the mood for something other than Slovakian cuisine, Bratislava has plenty of international options to choose from. For Italian food, head to Pizzeria Verona, which serves up delicious pizzas and pastas. If you're craving Asian cuisine, check out Koi Sushi, which offers a wide range of sushi and other Japanese dishes.
Best Places to Eat in the City Center
For a meal with a view, head to UFO Restaurant, which is located on top of the SNP Bridge and offers panoramic views of the city. For a cozy atmosphere and delicious food, check out Bratislavský Meštiansky Pivovar, which is a traditional brewery and restaurant located in the heart of the Old Town.
No matter what type of food you're in the mood for, Bratislava has plenty of options to satisfy your cravings.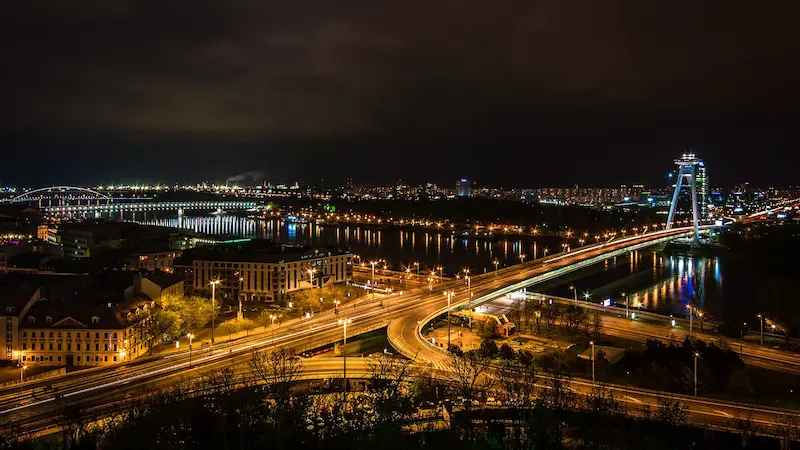 Best Bars and Nightlife in Bratislava
Bratislava is known for its vibrant nightlife scene, and there are plenty of bars and nightclubs to choose from. Here are some of the top nightlife spots in the city:
Subclub – This underground nightclub is located in an old bunker and is known for its techno and house music.
Uisce Beatha – If you're looking for a more laid-back atmosphere, Uisce Beatha is a cozy Irish pub that serves a wide selection of beers and whiskeys.
The Club – This upscale nightclub is located in the city center and is popular among the younger crowd. It features a rooftop terrace with stunning views of the city.
KC Dunaj – KC Dunaj is a multi-functional cultural center that hosts concerts, exhibitions, and other events. It also has a popular bar that serves local beer and cocktails.
Urban House – This trendy bar is located in the heart of the city and is a popular spot for locals and tourists alike. It has a wide selection of drinks and often hosts live music performances.
When it comes to drinks, Slovakia is famous for its beer, with popular local brands including Zlaty Bazant and Saris. Wine is also a popular drink in Bratislava, and there are several local wineries that offer tastings and tours.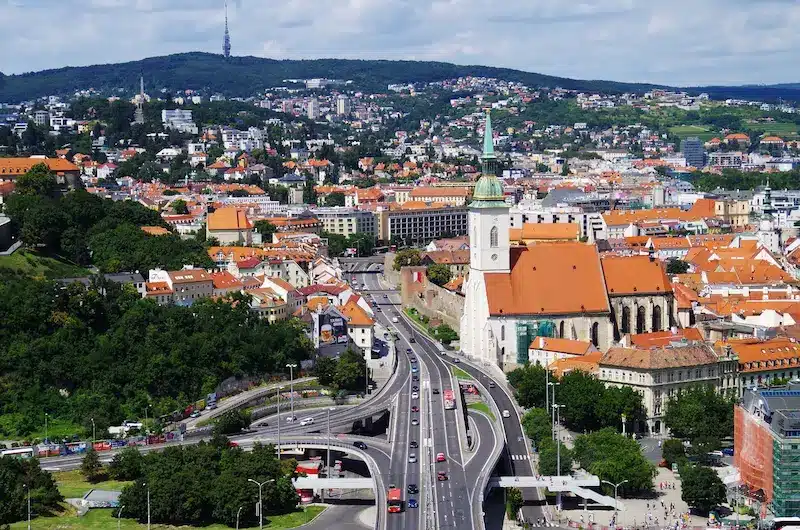 Top Day Trips from Bratislava
If you have some extra time in Bratislava, there are several great day trips you can take. Here are some of the top options:
Vienna, Austria – Just an hour away by train or car, Vienna is a must-visit destination for anyone interested in history, culture, and architecture. Highlights include the Hofburg Palace, St. Stephen's Cathedral, and the Schönbrunn Palace.
Budapest, Hungary – Another popular destination, Budapest is about 2.5 hours away by train or car. Don't miss the stunning Hungarian Parliament Building, Fisherman's Bastion, and the famous thermal baths.
Danube River Cruise – You can take a scenic cruise down the Danube River and enjoy stunning views of the city and surrounding countryside.
Bratislava Zoo – If you're traveling with kids or just love animals, the Bratislava Zoo is a great place to spend a day. It's home to over 150 species of animals, including rare and endangered species.
Bratislava Christmas Markets
If you're visiting Bratislava during the holiday season, be sure to check out the Christmas markets. Here are some details:
Dates and locations – The Christmas markets usually run from late November to late December and are located in the Old Town and Hviezdoslav Square.
Local foods and drinks to try – Be sure to try the traditional Slovakian Christmas treats, including honey cookies, lokshe (potato pancakes), and mulled wine (known as "varené víno").
Best souvenirs to buy – The Christmas markets are a great place to find unique gifts and souvenirs, including handmade crafts, wooden toys, and Christmas decorations. Don't miss the chance to pick up a traditional Slovakian ornament for your tree.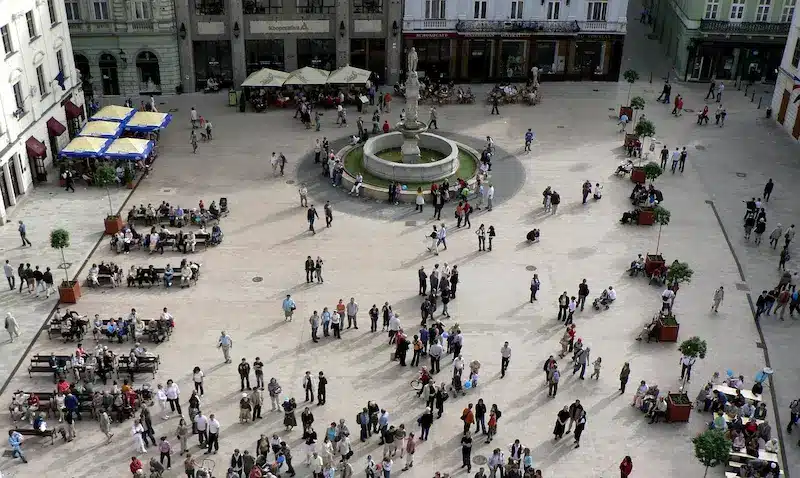 Local Customs and Culture in Bratislava
Bratislava is famous for its rich culture and heritage, which is reflected in its traditional festivals and events. One of the most famous festivals is the Bratislava Music Festival, which takes place every year in September and brings together the most famous musicians of the world.
In addition to music, Bratislava is known for its folk traditions and folklore, which are showcased at various festivals throughout the year. One of the most popular events is Master Andrew Days, held in May, which celebrates the life and work of the local craftsman and artist.
Slovak traditional music is also an integral part of Bratislava's culture, and there are many places where visitors can enjoy a performance of traditional music. The Slovak Philharmonic Orchestra is one such place, known for its exceptional classical musical performances.
Arts and crafts are also an important part of Bratislava's culture. The Slovak National Gallery is a must-see for art lovers, as it features a collection of works by the country's most famous artists. Visitors can also experience local crafts at various markets and stores throughout the city.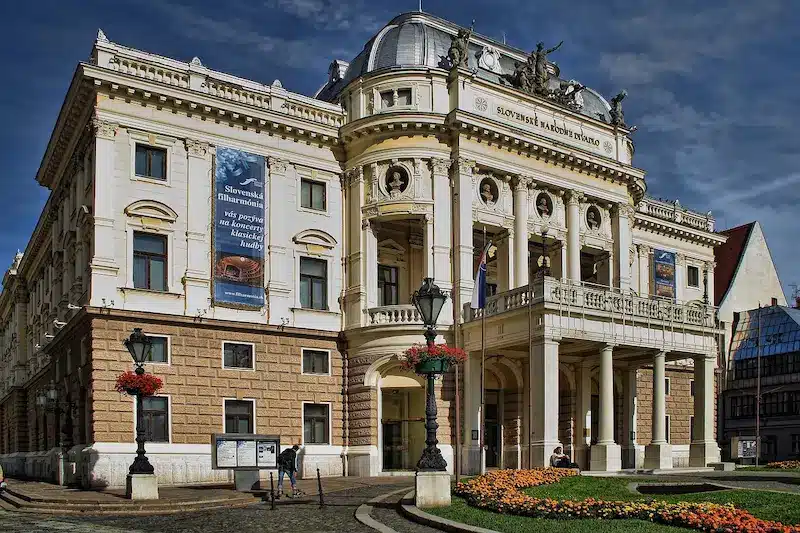 The bottom line
Bratislava is the hidden gem of Europe with its rich culture, fascinating history and beautiful sights. From the majestic Bratislava Castle to the charming Old Town, the city has something to offer every traveler. Guests can indulge in traditional Slovak cuisine, enjoy a vibrant nightlife and learn about local customs and traditions.
If you are interested in history, culture or adventure, Bratislava is the perfect place to travel. Don't miss your chance to explore this beautiful city and experience all it has to offer. Book a trip to Bratislava today and discover one of Europe's most charming places.